Road Bike Mechanic in Paris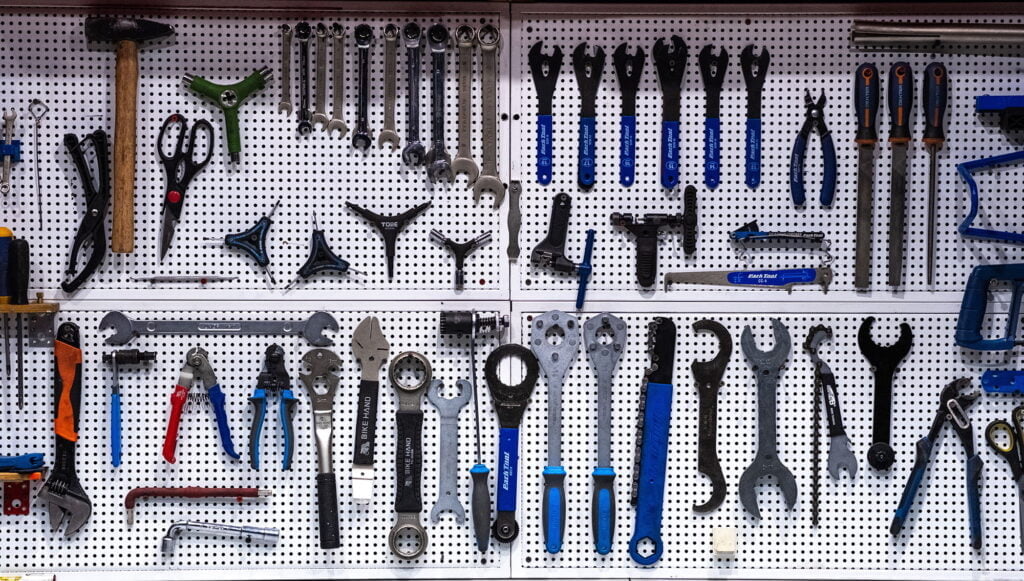 We have a comprehensive list of services we offer as road bike mechanics in Paris. Your modern road, gravel, and time trial/triathlon bikes are in good hands with us.
We also have a mobile workshop operating aboard the Basicycle cargo bike. Get in touch! We will decide either to receive you at our location or arrange a pickup and drop off of your bike, your wheels, or other parts that need repair, or even a quick repair service where you are!
We offer custom bike builds, à la carte, with your choice of frame, group set, components, wheels, and accessories. We can indeed source all equipment and accessories you may need too!
Learn more about our bike build service here! If you're buying a Canyon bike, read this first!
Routine Checkups
We recommend that you get routine bike checkups done REGULARLY! It is the best way to keep your rides safe, stress-free, and fast.
Doing regular checkups saves you money as well. The sooner we find the problem, the easier and less costly it is to solve it! So you can prevent further damage and higher costs!
Regular inspection, service, and maintenance add to the lifespan of your bike and its consumable parts.
We thoroughly inspect each part of your bike with a lot of care and attention and when needed, with precision tools. We also keep a detailed record of the maintenance work that we do on your bike. You can opt-in to receive reminders any time a service task is due or one of your bike parts is approaching the end of its functioning life.
Brakes
Brakes are undoubtedly the most vital part of your bike for your safety! We recommend checking your brakes before every ride and making sure that they are fully functional. We can help you with:
Full Brake Checkup at Every Visit
Rim Brake Adjustment
Rim Brake Cable and Housing Replacement
Rim Brake Pad Installation
Disk Brake Full Bleed
Disk Brake Rotor Truing
Disk Brake Pad Installation
Disk Brake Caliper and Pad Alignment
Disk Brake Caliper Surfacing
Here at Basicycle, we do care about your safety and well-being above everything else, therefore ALL THE WORK WE DO ON YOUR BRAKES IS FREE OF CHARGE! You only pay for the consumables. We are proud to be your road bike mechanic in Paris!
Frame
Frame Cleaning and Polish
Frame Customization
Complete Frame Overhaul
Custom Design and Paint Jobs
Ceramic Coating Application
Paint Sealant for New Bikes
Accessories for Your Frame
Wheels
Custom Wheel Build
Wheel Rebuild, Relacing
Full Wheel Service
Wheel Repairs, Spoke Replacement
Bearings: Checkup, Cleaning and Regreasing / Replacement
Wheel Truing
Wheel Customization, Decals, Stickers
Tires installation and replacement
Drivetrain
Drivetrain Upgrades
Bottom Bracket Service/Replacement
Drivetrain Tune-up
Oversized Pully Wheel Installaion
Shifting Cable/Housing Replacement
Shifting Adjustments
Sram AXS Service and Upgrades
Shimano Di2 Service and Upgrades